A newer version of this article is available.
[Deutsche Version anzeigen]
[Voir la version française]
Due to current events concerning the coronavirus, we have compiled tips and recommendations for you in order to be able to support you in the best possible way.

1. Inform customers optimally ℹ️
For clear and proactive communication, SportsNow offers you practical options. We would like to show you how to use the functions optimally.
Send messages ✉
With the messaging feature, you can easily and quickly send push messages to selected members or groups of members.
For example, you can send a message only to customers who have an active pass or to all participants of a selected class.
💡 A push message reaches your customers directly on their smartphones and remains visible for 24 hours in the «Home» of the SportsNow app.
Use newsletters 📧
SportsNow offers you an integration with MailChimp. MailChimp is an email marketing service that makes it easy to send email messages to your customers.
As with the messaging function, you can easily and specifically select the desired recipients. You also benefit from the numerous templates available in MailChimp.
💡 Your customers are automatically transferred once a day from SportsNow to MailChimp.
Create news articles 📰
Use your own news page on SportsNow to publish information in the form of articles. You also have the possibility to post a picture or photo. The news page is also ideal to inform your customers in more detail.
💡 Your customers automatically receive a push message for new posts. They are also visible in the «Home» section of the SportsNow app.
Recommended information
About the operation: How does the operation continue?
What hygiene measures must be observed?
What happens if someone disregards the regulations?
What are the options for risk groups?
Examples in short form:
From now on and until temporarily on there will be no more regular classes.

We will continue to develop digital solutions for training at home.

All passes remain valid and will be extended accordingly.
---
Our one-to-one classes will take place with restrictions until further notice.

Clients who feel unwell, show symptoms of illness or are ill, please stay at home.

We reserve the right to send home clients who do not comply with the regulations.


We ask affected risk groups to contact us in order to find a suitable solution.


Hygiene measures: Thorough hand cleaning before and after class. No physical contact, neither during the welcome nor during the class. Maintain sufficient distance. Disinfect equipment and aids after use.
---
2. Finding accommodating solutions 🤝
SportsNow accompanies you in the Corona time and helps you find accommodating solutions for your customers.
Pause passes 💤
If a customer belongs to a risk group and therefore cannot train for some time, you can simply pause the member's pass. A pass can be paused several times so that you can react to the current situation.
💡 If a pass is paused, the member cannot make any check-ins or bookings during this time. The duration of the pass is extended by the period of the pause.
Write notes ✏️
Use the notes feature to record important information and agreements with your customers. The notes are visible to the team and can be edited together. This way all important information always remains in the system and is not lost.
Show instructions
To our offer

---
3. Being there for each other safely – online classes in your studio ❤️
In the digital age there is the option to create alternative offers, which allows your customers to train from home.
We would like to present you some options that you can check for a possible use.
Offer online classes via live video streaming 📺
Offer online classes in the form of live video streaming. This allows you to maintain personal contact with your customers and participants can train from home.
Manage online classes with SportsNow 📅
Organize your online classes as usual with SportsNow. Create new classes and possibly new passes that can be booked by your customers. Ideally set up online payment methods so that your customers can pay directly by credit card or TWINT.
Step-by-step instructions 🤓
Create a new class such as «Pilates at home».
If you would like to offer new passes / admissions for your online classes, create additional passes such as «Single entry for Pilates at home».
We have also explained how to create classes and passes in more detail here: https://support.sportsnow.ch/zweiter-schritt-studio-einrichten/
Apps for online classes 📱
Streaming and video conferencing apps are particularly suitable for live broadcasts. We would like to briefly introduce some of them to you here.
Zoom
The Zoom app allows you to hold online meetings with your participants. You can easily offer online classes by starting a new meeting per class and sending the link to your participants.
Pros:
Very easy to use.
The app is available for free.
No registration required for your participants i.e. they can simply open your link and participate.
Meetings up to 100 people possible.
Upgrade option to extend limits.
Cons:
Time limit of 40 minutes for meetings with 3-100 people (unlimited for two people)
The videoconferences are not saved.
Step-by-step instructions 🤓
As an instructor, download the Zoom app to your smartphone and register your own account. You're ready to go!
Inform your customers and ask them to install the Zoom App as well.
Press «Schedule» in the app to prepare a meeting for your next online class. The settings are explained here: https://support.zoom.us/hc/de/articles/201362413-How-Do-I-Schedule-Meetings-?zcid=1670
Now add the link to SportsNow to your online class. Click «Add Livestream» in the participant list of your online class to add the link.
Your members will be notified automatically and can start the livestream directly with SportsNow.
To help your participants hear you better, you can mute them all so that they can only hear you. Meeting controls are explained in detail here: https://support.zoom.us/hc/en-us/articles/201362603-What-Are-the-Host-Controls-
After the class, you can unmute again so that you can communicate with each other.
Example instructions for your customers in short form
You can find and book the dates and times of the new online classes as usual on SportsNow.


Download the «Zoom» app to your smartphone.


You will automatically receive a notification from SportsNow 30 minutes before the course starts with the course link.


Join the online class by clicking on «Start Livestream» in the email or app


The class will start on time. All participants will be muted so that only the instructor can be heard.


After the class the mute will be unmuted so that an exchange can take place.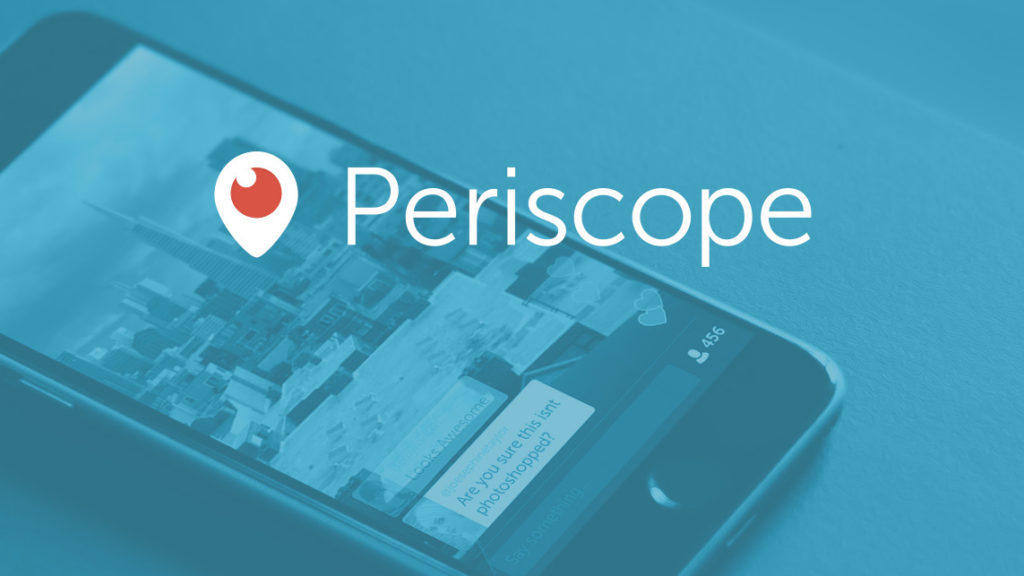 Periscope
The app was developed by Twitter. It lets you send live videos for free and is available for both Android and iOS. Your viewers can even interact with you directly, i.e. send likes and comments that you can respond to individually.
Pros:
Your videos remain stored and can be viewed later.
You can create private videos that can only be viewed by certain groups.
The app is free of charge.
Cons:
Everyone needs their own account.
You and your customers have to connect with each other in the app.
Step-by-step instructions 🤓
As an instructor, download the Periscope app to your smartphone and register your own account.
Click on «Share Link» – «Copy» in the «Home» section of the app to copy your «Follow Link». The link will look something like this: https://www.pscp.tv/<username>/follow
Share the link with your customers. When opening the link, your customers will be able to download the app and follow you directly to watch your videos.
As an instructor you will be automatically notified as soon as someone follows you. Press the bell icon at the bottom right to see who is following you now.
Important: You and your customers must follow each other in order to create groups. Therefore, it is best to follow your customers back as soon as you receive a notification.
This would be the most important preparations. Now you can start!
Press the red dot at the bottom center of the menu to start recording.
At the top of the screen you can set whether the recording is public or only visible to a specific group.
Public: Everyone on Periscope can see you.
Group: Only a certain group of followers can see you.
The video stream is prepared in the meantime. It may take a moment until the «Go LIVE» button is displayed. Therefore it is recommended to allow enough preparation time before a scheduled class starts.
Now press «Go LIVE» to get started. Your followers will be notified automatically.
To change the camera view, double-tap the screen.
When you're done, just wipe down to finish the recording.
💡 You can easily send your own follow link to your customers with SportsNow (see above).
💡 You can very easily provide the link to a recorded livestream to the participants after the class, so they can do the workout again.
Working with video 🎥
You can record videos with your smartphone. Easily create video recordings of your exercises, which you can link to your lessons directly in SportsNow using the «Video workouts» feature. Your clients can watch the video exercises of the online courses they have booked directly on SportsNow.
Advantages:
You can prepare videos at your leisure compared to live streaming.
Customers can watch video tutorials directly in SportsNow and don't need an additional app.
Disadvantages:
Videos are prepared and therefore not streamed live.
You need your own cloud storage or server to store your videos online.
Here's how it works:
Create your online course e.g. «Home Training – Pilates».
Upload your video and create a video exercise under «My video workouts».
Click on «Add video workouts» in the list of participants to link the video to your course.
Your members can now book your online class and watch it anytime. They can also use the commentary function to give you personal feedback directly.
Show instructions
To our offer
---
4. Adapting business to the situation
SportsNow will help you adapt your business to the situation and comply with regulations.
Postpone classes and workshops 📆
If you would like to postpone your classes and workshops until further notice or offer alternatives, we recommend that you cancel your classes or enter company holidays. All affected bookings will be cancelled automatically, participants will be informed accordingly and passes will be adjusted or credited.
💡 In the pass settings (under «Set up my studio» – «My passes») you can specify whether the validity period should be automatically extended by the duration of the company holidays.
💡 If you have already entered company holidays without having previously made the pass settings, delete the company holidays again, update the pass settings and enter the company holidays again.
💡 When cancelling a class or entering company holidays, you can enter a reason or information. This information is also displayed in the timetable. So you can inform your customers about possible catch-up possibilities.

Restrict the number of participants 👥
You can adjust the available number of seats for your classes. We recommend that you do this directly for each class via the participant list and not in the basic settings of the classes (under «Set up my studio»).
Adjust registration and deregistration periods ⏱
At present, it may make sense to shorten the registration and deregistration periods, so that cancellations and participation at short notice are possible. You can easily adjust the deadlines in the class settings.
Working with waiting lists 📋
With waiting lists, you can ensure that if you cancel at short notice, a waiting customer will be notified immediately and can register immediately. This helps you to make the best possible use of the already limited places.
💡 You can also use the waiting list function for individual appointments. Activate this option under «Set up my studio» – «Further settings» – «Booking settings». Put a check mark at «Offer a waiting list for individual appointments» and click on «Save settings».
Keeping the overview 👀
If you use our check-in system, you can see the current number of visitors in your studio at a glance. This is especially helpful to keep within the current limits. You can also use the check-in history to track all visits.
💡 All check-ins of a customer can also be found in the customer details.
---
We hope that our tips and recommendations will help you get through the Corona period in the best possible way. Stay healthy!